2018-07-30 12:01

Solution
Download and install the plugin Google Drive for Office Plugin

Close all Office docs, then open Word and follow the prompts to connect to Drive.

Close/reopen Chrome.

Open Drive. Find a Word doc, right-click > Open With, and see if Word is listed.

If not, open Extensions...

and enable Application Launcher
Now you should see Word as an option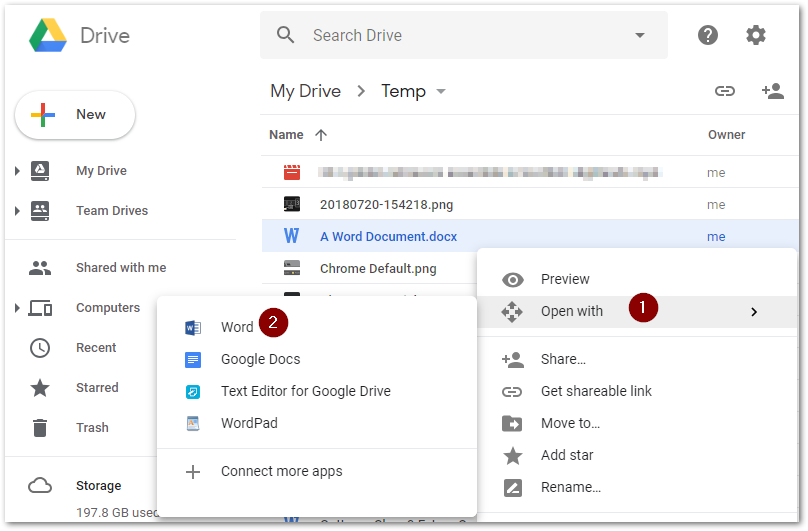 Background
Google really wants you to use their Docs suite, so much so that their default option for editing a Word document is "Google Docs."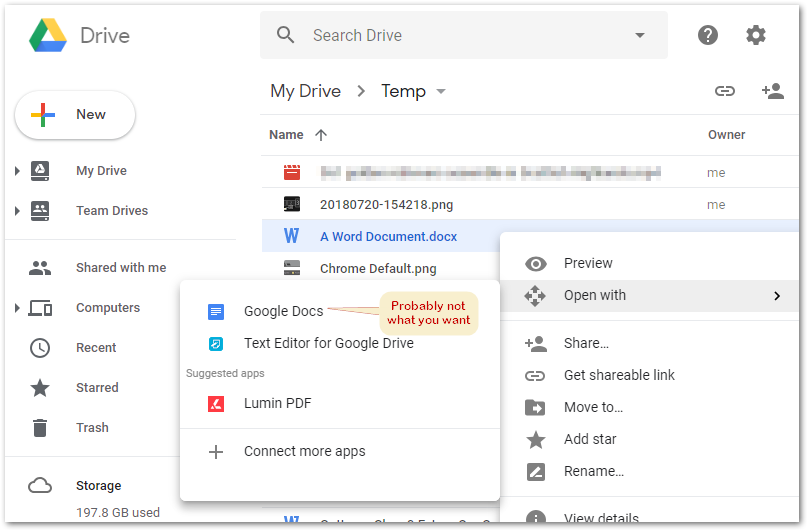 But this doesn't open your Word document for editing. It converts the document to a Google Text document. So now, you have two: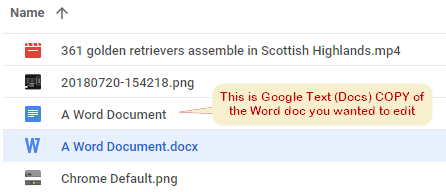 This quickly leads to "copy madness," where you end up with two, three or a dozen copies as you try to save your changes to Word. You might think you could send someone the file on in your file system:

Do Not Do This! If you open that .gdoc file in a text editor, you'll see it's just a link to the online file. You can only edit a Google Doc in the browser.
{"url": "https://docs.google.com/open?id=1WsdFxt7qcUiy0ikB-gNV2U4ZoOQ8_OsDEAtIOBesVpg", "doc_id": "1WsdFxt7qcUiy0ikB-gNV2U4ZoOQ8_OsDEAtIOBesVpg", "email": "my@email.net"}

References
How to edit Microsoft Office documents stored on Google Drive - TechRepublic