2018-07-30 12:01

Update 2018-09-22 I've separated the instructions for opening Word from Drive, and opening Drive documents from Word.
Solution
Open Word from Drive
Install Google Backup and Sync (previously Google Drive) on your PC.
Install the Chrome extension Application Launcher for Drive (by Google)
That's it! You should now be able to right-click a Word document in the Drive web app and choose Open With Word.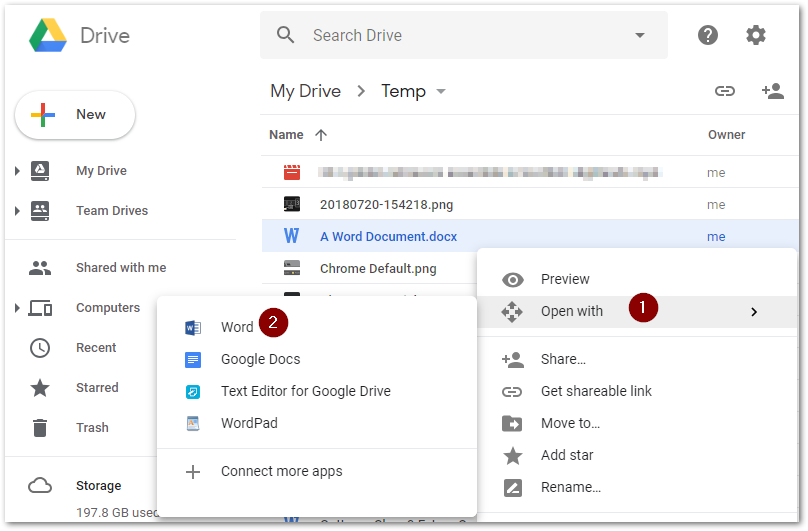 Open Drive Document from Word
Download and install the plugin Google Drive for Office Plugin
Close all Office docs, then open Word and follow the prompts to connect to Drive.
Drive will now be an an Open/Save option in Word.
Bonus Option - Office Editing Extension
While I don't recommend it, you can also edit your Microsoft Office documents from drive using a Google extension: Office Editing for Docs, Sheets & Slides
I don't like this because it's not native Office editing, so there will likely be compatibility problems. I think what this extension does is temporarily convert the Office document to a Google Doc for edtiing, then convert back to the Office format.
Background
Google really wants you to use their Docs suite, so much so that their default option for editing a Word document is "Google Docs."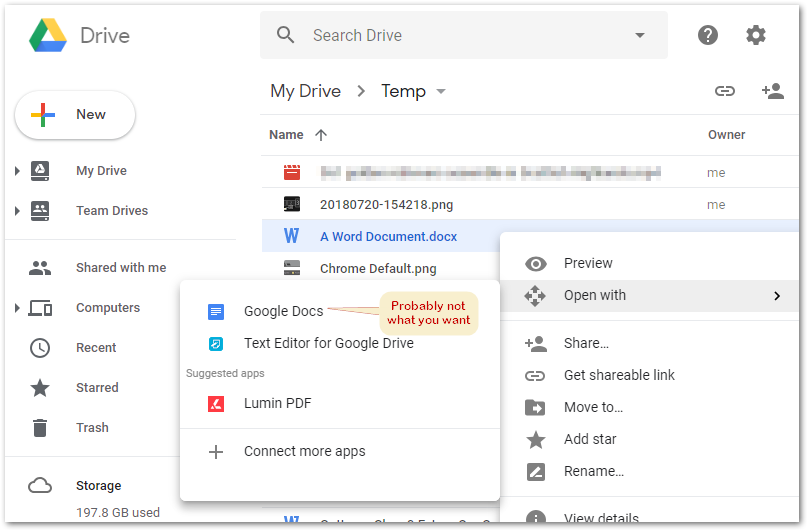 But this doesn't open your Word document for editing. It converts the document to a Google Text document. So now, you have two: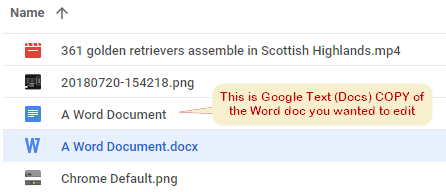 This quickly leads to "copy madness," where you end up with two, three or a dozen copies as you try to save your changes to Word. You might think you could send someone the file on in your file system:

Do Not Do This! If you open that .gdoc file in a text editor, you'll see it's just a link to the online file. You can only edit a Google Doc in the browser.
{"url": "https://docs.google.com/open?id=1WsdFxt7qcUiy0ikB-gNV2U4ZoOQ8_OsDEAtIOBesVpg", "doc_id": "1WsdFxt7qcUiy0ikB-gNV2U4ZoOQ8_OsDEAtIOBesVpg", "email": "my@email.net"}

References
How to edit Microsoft Office documents stored on Google Drive - TechRepublic