2006-11-24 14:18
There I was, driving along some backroad wasting time before meeting a friend, listening to The Splendid Table on the radio. Suddenly, I was inspired. I could do it! I could cook something resembling a real Thanksgiving meal! Me, a bachelor, who, in grocery stores, asks what aisle the toast is in*.
Now, I sort of in a way know how to cook. I worked in a restaurant kitchen--a health food place--many years ago. But the last two decades have transformed my brain into mush pudding (yuck) so that now to prepare any food I have to follow the instructions very carefully. I certainly wasn't going to try and bake a turkey. Besides the almost certain visit from the fire department, it would have been a waste of food.
As it is, I have enough leftovers for a week.
So, this is my photo journal of my meals. It's also a homage to my past, present and future. Details below.
---
*This isn't my joke. It's from a wonderful cartoon I remember.
---
The Night Before
I wanted thick sliced bread. I could have bought thick sliced bread (Texas Toast, my first homage, to my Mom who lives in that massive region.) I have a bread machine. Unused. For a year and a half. Until now.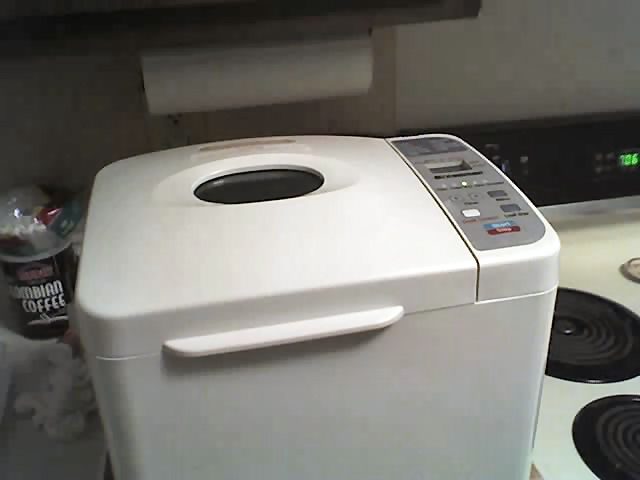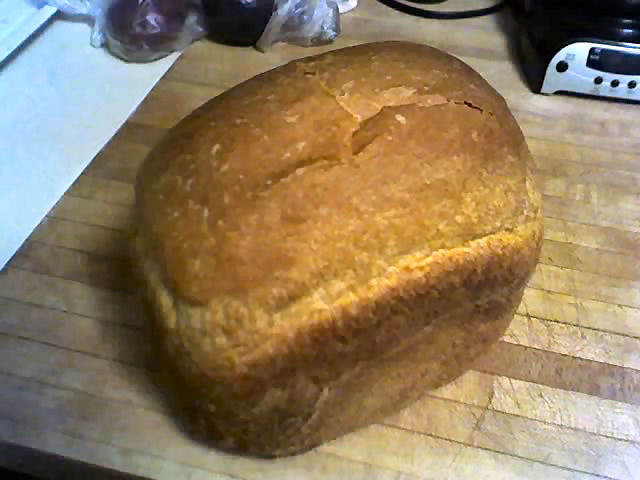 Thanksgiving Morning
First things first. Feed my fish, Suave Sam Allen. He's not impressed. "Hey, bub, whaddaya call this? Where's my pistachio pudding? All you humans, no respect for tradition. And what's your problem, anyway, fur face? Not a dame in sight."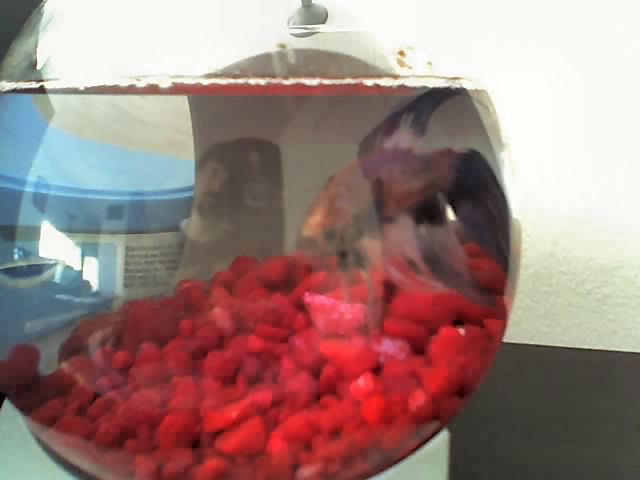 The table, set, awaiting its culinary jewels. Or, possibly, a TV dinner.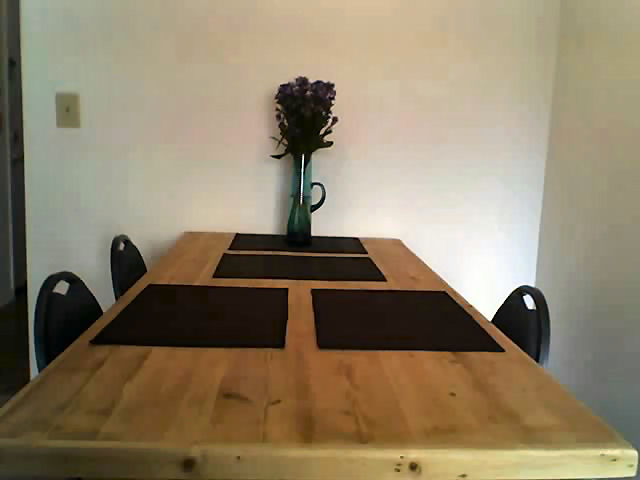 Breakfast
Omelette w/mozzarella, bacon & avocado
Toast w/butter & black cherry preserves
Canteloupe
Cranberry juice
The ingredients. That's low-sodium bacon, which seems less inclined to curl. I was lucky, the avocado was perfectly ripe. Just firm enough to easily remove the pit, just soft enough so the skin peeled right off.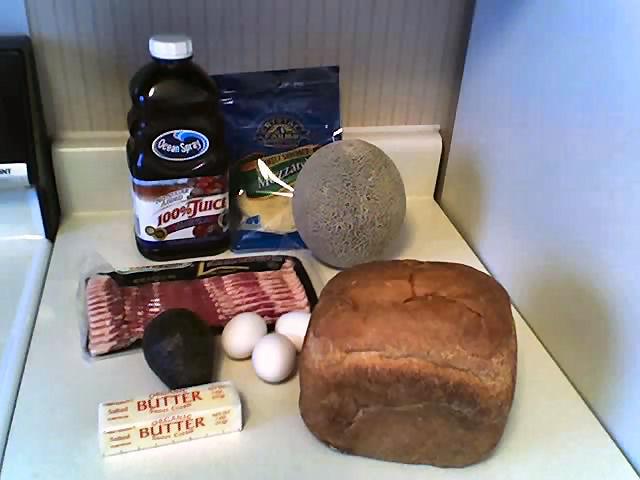 The kitchen implements. Remember these. With only a few exceptions (like a rolling pin, and a couple of pots), this is all I used all day. I'm a cooking minimalist. I also don't own much else.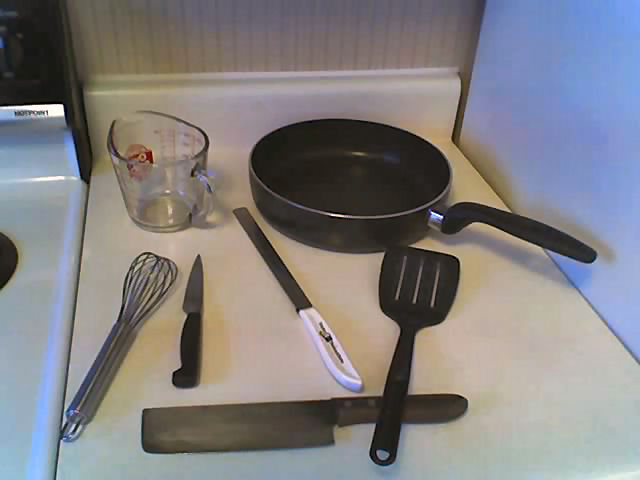 The final result. Probably my best presentation all day. With a few exceptions, I make fine omelettes. So, this is my homage to myself, and my own past, and to the wonderful Japanese film Tampopo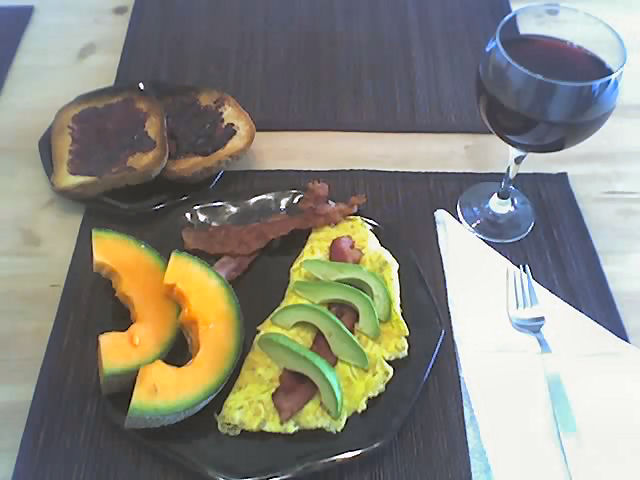 Lunch
Turkey sandwich w/romaine, sweet gherkins, mayo
Homemade, fried potato chips w/black pepper
Guinness
The ingredients. "Sweet gherkins" my brain said. Well, it's true, they're great on a sandwich.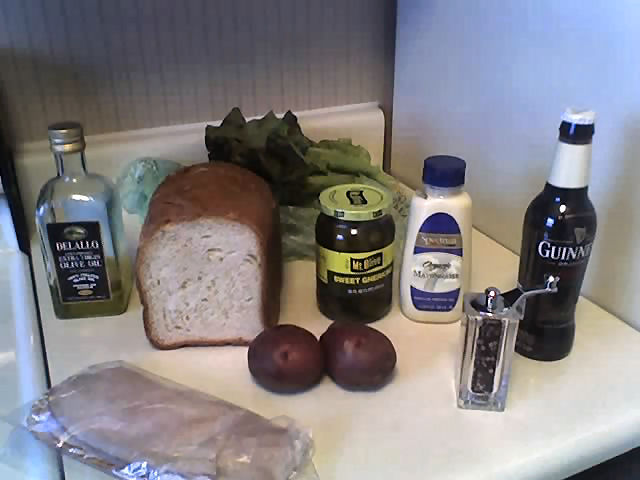 Yummy! I had a little trouble with the potato chips. They were a little dark (some would say burnt, but that's a fine distinction). The Guinness is, of course, supposed to be dark. Here I bow to tradition (the turkey), an old memory (the gherkins), and my love of fine beer.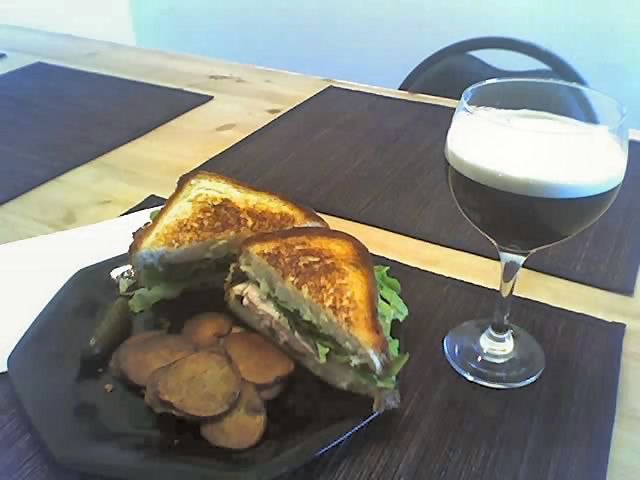 Prep: It's Noodle Time
The ingredients. From so few items, so many messes.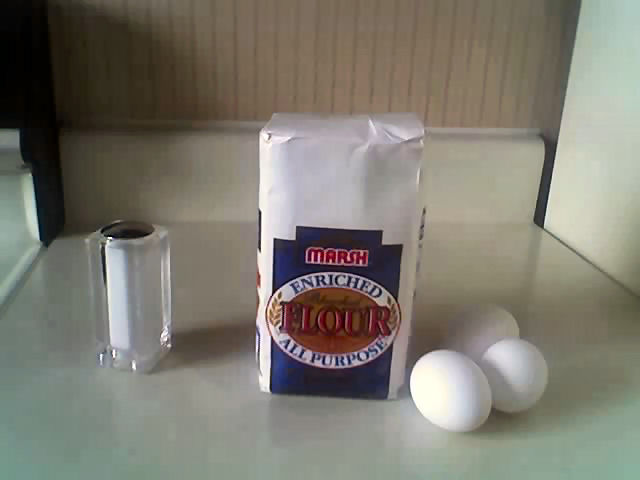 My first results. Kind of pathetic. They look like animal skins thongs.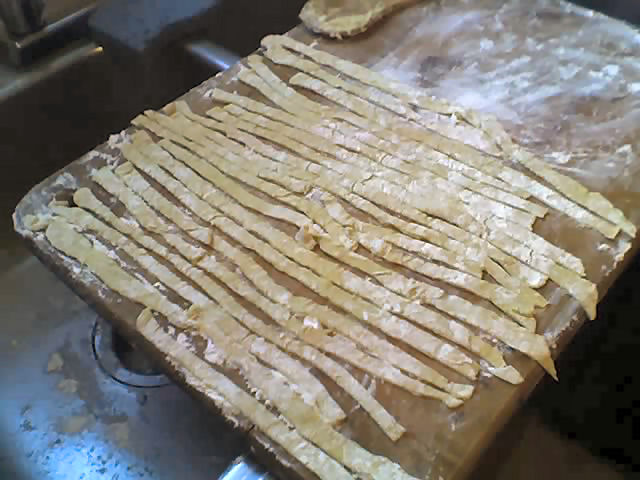 Round two, all stretched out.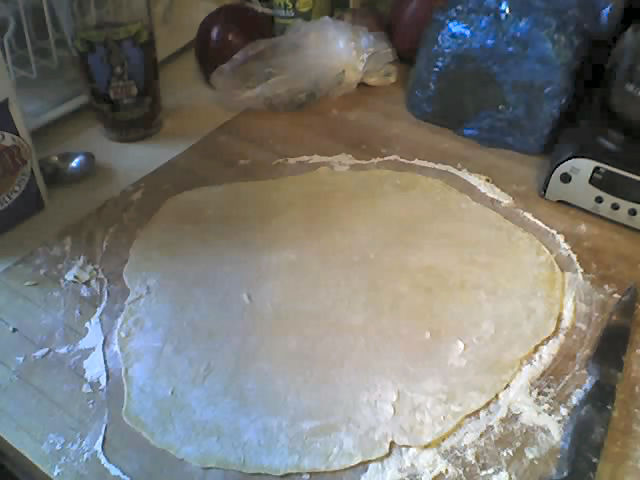 And cut! Much better. On my mom's side of the family, there's a tradition of noodle competition. Apparently, my brother has been carrying the torch for years. I'm sure he is a maestro, but with this year's effort I'm on the map. Look out, little bro'!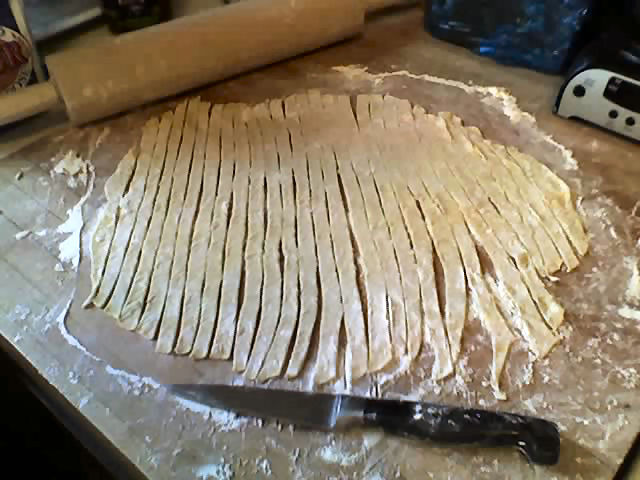 I had twice as much dough as necessary. Froze that. Might use it. And what to do with the leftover egg whites? I--briefly--had this dazzling vision of whisking them into a meringue, using some dough to make a mini pie crust, adding my lime...! Um. No sugar. And no desire to whisk for half an hour. And no mini pie pans. I remember my mom making mini apple pies using leftover chicken pot pie pans.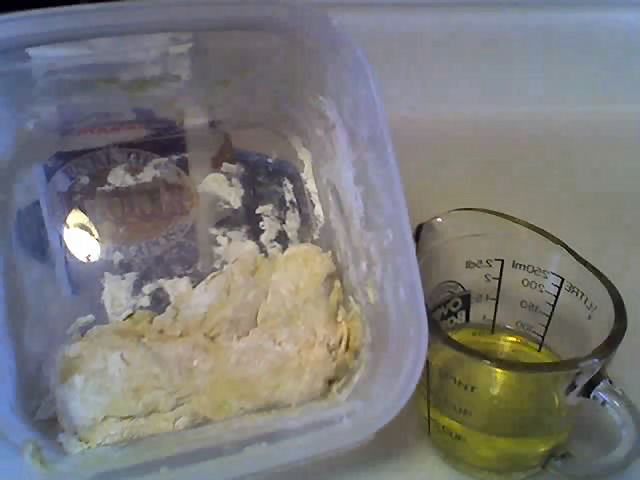 Dinner
Rotisserie chicken
Homemade noodles
Chicken stock gravy
Baked sweet potatoes & marshmallows
Green beans w/seasoning
Corn on the cob
Cabernet Sauvignon
Apple pie
Tawny Port wine
Many compromises are found here. I had to buy the rotisserie chicken the night before, refrigerate and reheat. I could have attempted creating chicken stock from the afore-mentioned chicken, but wasn't interested in failure. And despite having been taught the art of the apple pie from a master (my ex-wife, whose crusts are perfection), I entrusted dessert to Mrs. Smith.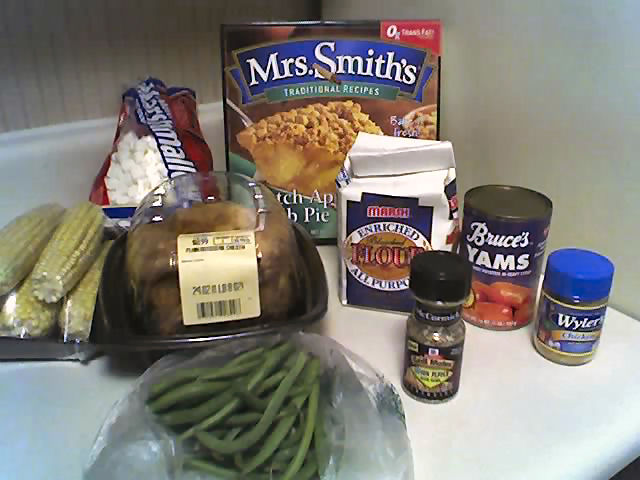 Let me say that I'm proud of my noodles, and especially proud of my gravy. I used the roux method, adding flour to butter. I didn't have a recipe, just general instructions, so I didn't know how much butter, flour, etc. to use. I ended up with a gravy that was too salty, but good enough. That white dwarf star in the upper right is "baked" sweet potatoes. Oops. No baking dish, so I had to microwave them.
My dad and his wife enjoy wines, and this was a pretty good Cabernet Sauvignon (and my homage to them). I absolutely love sweet potatoes with marshmallows; it's one of my favorite Thanksgiving memories. On my dad's side of the family, I recall snapping green beans and shucking corn. Thanks to all grandmas!
I don't have a picture of the port wine, but it was a tawny, and is my homage to my ex-wife's family who included me in so many meals. Port and apple pie are a superb combination.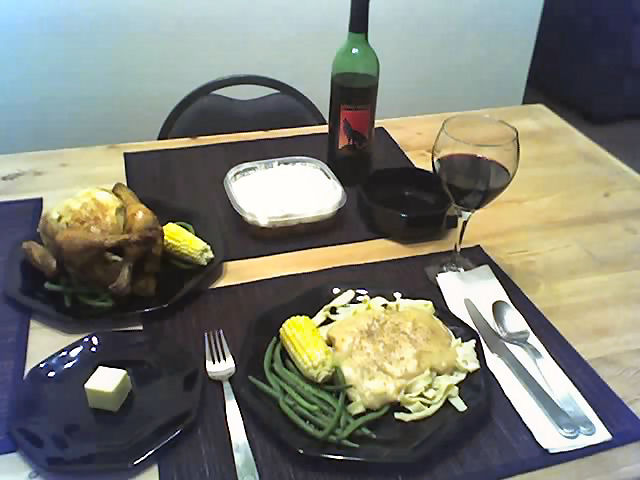 Appropriate. This, strangely, represents my gift to myself and my future family. I looked forward to a day with myself, where I didn't brood and dwell on what has gone wrong, but instead to be happy. If I end up as a family of one, then I can enjoy that. I'll always have friends. I'll always have family. I'll always give thanks.