2018-05-07 06:17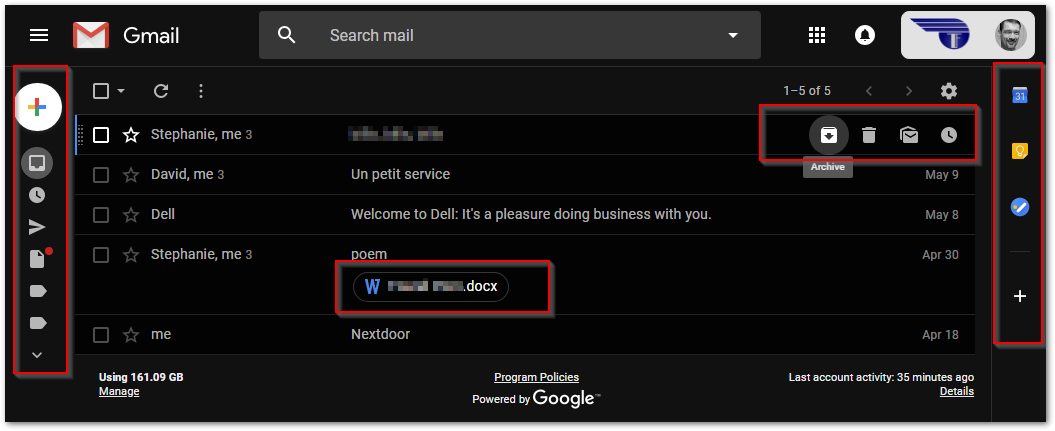 I like the new Gmail. Others have already written about the new features (snoozing emails, etc), and I admit I don't use those. For those who are worried about the change, here's my quick two cents.
Likes
Good-looking dark theme
Right sidebar with Calender and Keep is useful
Left sidebar can be collapsed. Love this!
I previously always used Compact display density. Now I'm using Comfortable because I like seeing the email attachment links/titles, and I keep my Inbox pretty clean.
Mark All as Read
Dislikes
I wish the left sidebar didn't auto-expand when hovered over
Google Keep right sidebar app doesn't allow reordering of list items. Grrr.
Neutral
Tasks looks prettier than before, but doesn't really have better features. And it doesn't fit the way I work, because I need to rapidly copy sets of tasks elsewhere. I can do that with Keep. But I think it'll be a good app for many people, especially now that there's a mobile version.
Bonus
The Keep sidebar app puts completed list items in a Completed area at the bottom. Why can't I have this feature in Keep? Several years ago, Google removed some per-list settings, including where checked items appeared. I wrote about this at the time as a step backwards.